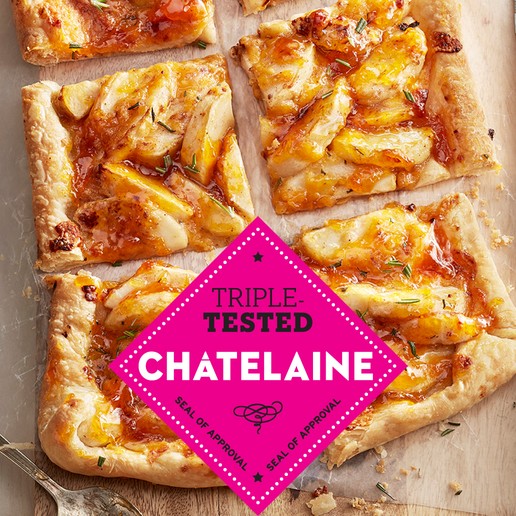 Ingredients
1/2 397-g package frozen puff pastry, thawed
1 cup grated old cheddar
2 tsp chopped fresh rosemary, optional
3 large apples, such as McIntosh or Granny Smith, peeled
2 tbsp Lantic & Rogers Smart Sweetener Blend
1 tbsp all-purpose flour
1/4 tsp cinnamon
1 to 2 tbsp apricot, apple or peach jam, or jelly (optional)
Directions
PLACE oven rack in lowest position in oven. Preheat oven to 375F (190C). Lightly sprinkle counter with flour. Place puff pastry dough on top.
DUST rolling pin with flour. Roll pastry into a rectangle, about 16x10 inches (40x25 cm). Pastry will be very thin and edges will be uneven. Place on a large, ungreased baking sheet.
SPRINKLE half of cheese and half of rosemary along edges of dough, forming a narrow border. Fold edges over to completely cover and press down to seal. Slice apples into thin wedges. Place in a large bowl. Sprinkle with remaining cheese and rosemary, Smart Sweetener Blend, 1 tbsp (15 mL) flour and cinnamon. Toss to evenly coat. Tumble apples over centre of pastry inside border.
Evenly spread out and gently press down.
BAKE on bottom rack of oven until pastry is deep golden and apples are tender, 30 to 35 minutes. Place pan on rack.
TO GLAZE APPLES, discard any chunky pieces of fruit from jam. Place jam in a small bowl and microwave on medium-high until melted, about 30 seconds. Brush over warm apples. Let stand 10 minutes before cutting.
CUT into squares and serve warm. Great with vanilla ice cream or whipped cream.