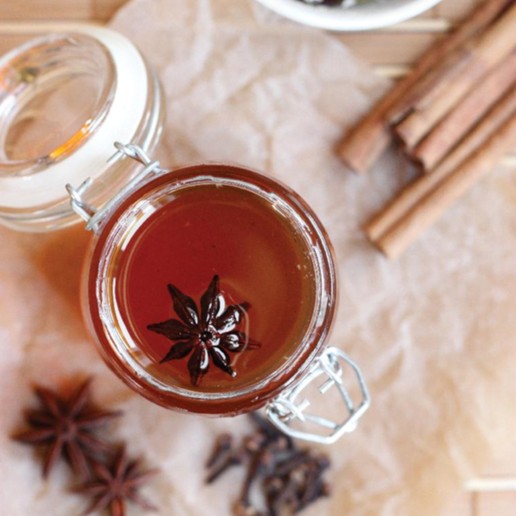 Ingredients
3 cups (720ml) unsweetened apple juice
2 cinnamon sticks
10 whole cloves
3 whole star anise
1 x 2-inch piece of orange peel (zest only and not the white pith)
2 bay leaves
1 pack (900g) Lantic & Rogers Jam & Jelly Mix
3/4 cup raisins
2 tbsp (30ml) lemon juice
1 tbsp (15ml) dark rum
Directions
Combine apple juice, cinnamon sticks, cloves, star anise, orange peel and bay leaves in a large 4-litre saucepan over medium-high heat and bring to a boil. Remove from heat, cover the pan and let the mixture steep for 10 minutes to allow the spices to steep into the juice.
Discard spices. Stir in Jam & Jelly Mix, raisins and lemon juice thoroughly. Return the pan to medium-high heat and bring to a boil uncovered. Once boiling, continue to boil for 5 minutes while stirring occasionally. Skim foam off the surface as necessary. Test for gelling: place a small amount on a chilled plate (kept cold in the freezer) and return to the freezer for at least 30 seconds, then check if it is gelled. If not, continue to boil for another 1-2 minutes.
Remove pan from over the heat and let the boiling subside. Skim the foam from the surface and then transfer raisins to a small bowl with a slotted spoon. Stir rum into the raisins and store in a sealed jar in the fridge to enjoy later. Spoon or poor the hot jelly into sterilized jars, filling them up to 1 cm from the top. Seal the jars and let cool at room temperature. Makes 5-6 jars of 250ml (1 cup).
Tip
Serve the rum-infused apple jelly raisins alongside a holiday cheese plate or spoon a few into a small shot glass with anise-flavoured liqueur and serve as an aperitif.