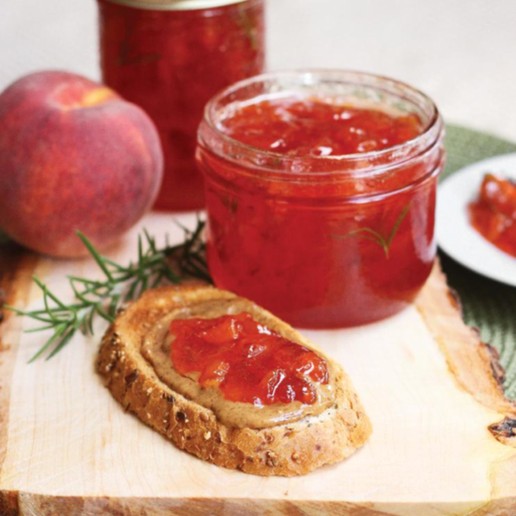 Ingredients
4 cups (960ml/520g) diced pitted peaches (cut into small 1/2-inch cubes)
1/2 cup (120ml) water
2 3-inch sprigs of fresh rosemary (plus extra for jarring)
1 pack (900g) Lantic & Rogers Jam & Jelly Mix
1 1/2 tbsp (22ml) lemon juice
Directions
Combine diced peaches, water and rosemary sprigs in a large 4-litre saucepan over medium heat and bring to a boil. Cover and simmer for 5 minutes until peaches are tender.
Remove from heat and mash the peaches with a potato masher leaving it a bit chunky. Slowly stir in Jam & Jelly Mix thoroughly, then return the pan to medium-high heat and bring to a boil. Once boiling, add lemon juice and continue to boil for 5 minutes while stirring occasionally. Skim foam off the surface as necessary.
Remove pan from over the heat and let the boiling subside. Remove and discard rosemary sprigs. Skim the foam from the surface and stir gently for 2 minutes to help suspend the fruit pieces. Spoon or poor the jam into sterilized jars, filling them up to 1 cm from the top. Pick the little bundles of rosemary leaves from a sprig and tuck one or two into the jam in each jar. Seal the jars and let cool at room temperature. Makes about 5 jars of 250ml (1 cup).
Tip
For extra festive flavour, stir in 1/2 tsp ground cinnamon before jarring.