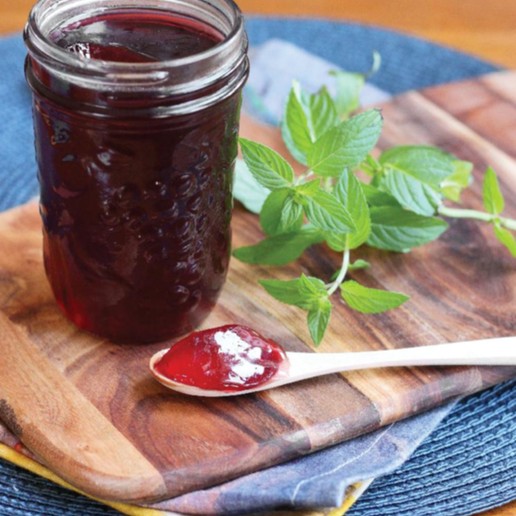 Ingredients
2 cups (480ml) unsweetened Concord grape juice
1 cup (240ml) unsweetened cranberry juice
1/4 cup loosely packed peppermint leaves
1 pack (900g) Lantic & Rogers Jam & Jelly Mix
1 1/2 tbsp (22ml) lemon juice
Directions
Combine grape juice, cranberry juice and peppermint leaves in a large 4-litre saucepan over medium heat and bring to a boil. Remove from heat, cover the pan and let the mixture steep for 5 minutes.
Use a slotted spoon to scoop out and discard mint leaves. Stir in Jam & Jelly Mix and lemon juice thoroughly, then return the pan to medium-high heat and bring to a boil. Once boiling, continue to boil for 5 minutes while stirring occasionally. Skim foam off the surface as necessary. Test for gelling: place a small amount on a chilled plate (kept cold in the freezer) and return to the freezer for at least 30 seconds, then check if it is gelled. If not, continue to boil for another 1-2 minutes.
Remove pan from over the heat and let the boiling subside. Skim the foam from the surface and then spoon or poor the jelly into sterilized jars, filling them up to 1 cm from the top. Seal the jars and let cool at room temperature. Makes 5-6 jars of 250ml (1 cup).