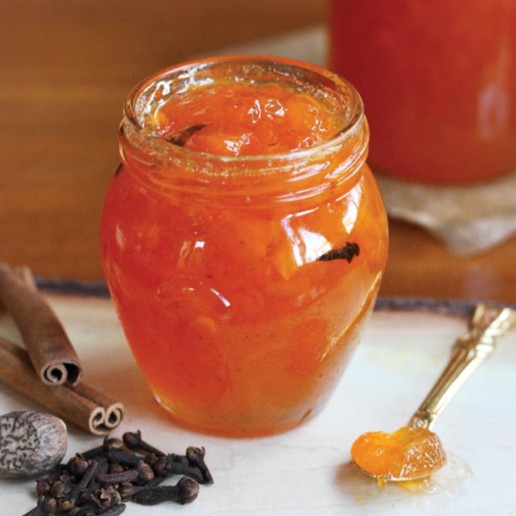 Ingredients
4 cups (960ml/520g) diced butternut squash (cut into small 1/2-inch cubes)
2 x 1/2-inch slices of fresh ginger (or 1/4 tsp ground ginger)
1 cinnamon stick
8 whole cloves
4 allspice berries (or 1/8 tsp ground allspice)
1/8 tsp freshly grated nutmeg
1/2 cup (120ml) water
1 pack (900g) Lantic & Rogers Jam & Jelly Mix
1/2 tsp butter
1 tbsp (15ml) lemon juice
Directions
Combine diced squash, ginger, cinnamon stick, cloves, allspice berries, nutmeg and water in a large 4-litre saucepan over medium heat and bring to a boil. Cover and simmer for 8-10 minutes until squash is tender. Remove from heat and strain the mixture over a measuring jug. Place the drained, cooked squash with its spices back into the saucepan. Top up the cooking liquid in the measuring jug to 1/2 cup and add it back to the saucepan as well. Mash the squash with a potato masher leaving it just slightly chunky. Slowly stir in Jam & Jelly Mix thoroughly. Add butter.
Return the pan to medium-high heat and bring to a boil. Once boiling, add lemon juice and continue to boil for 4 minutes while stirring occasionally. Skim foam off the surface as necessary. Test for gelling: place a small amount on a chilled plate (kept cold in the freezer) and return to the freezer for at least 30 seconds, then check if it is gelled. If not, continue to boil for another 1 minute.
Remove pan from over the heat and let the boiling subside. Skim the foam from the surface and stir gently for 2 minutes to help suspend the squash pieces. Remove cinnamon stick and ginger slices. Spoon or poor the jelly into sterilized jars, filling them up to 1 cm from the top. Seal the jars and let cool at room temperature. Makes about 5 jars of 250ml (1 cup).
Tips
You can replace the cinnamon stick in the recipe with 1/2 tsp ground cinnamon, but note that the colour of the jam will be darker.
For intense spice flavour, stir 1/4 tsp ground cinnamon and a few extra grates of fresh nutmeg into the jam just before jarring.