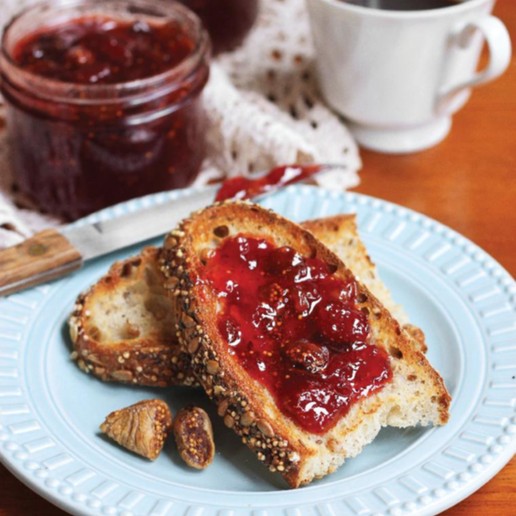 Ingredients
4 cups (1L/520g) fresh or frozen chopped hulled strawberries
2 tbsp (30ml) minced fresh ginger
1 pack (900g) Lantic & Rogers Jam & Jelly Mix
1/2 cup (120ml/60g) chopped dried figs
1 1/2 tbsp (22ml) fresh lemon juice
Directions
Combine chopped strawberries, 1 tablespoon of fresh ginger and Jam & Jelly Mix in a large 4-litre saucepan and mix thoroughly. Crush the fruit using a potato masher to break down any larger pieces.
Place the saucepan over medium heat and bring to a boil gradually while stirring occasionally. Once the mixture is bubbling, stir in dried figs, remaining 1 tablespoon of fresh ginger and lemon juice. Increase heat slightly and continue to boil the mixture for 5 minutes while stirring occasionally.
Remove the pan from over the heat and let the boiling subside. Skim the foam from the surface of the jam and stir gently for 2 minutes to help suspend the strawberry pieces. Spoon or poor into sterilized jars, filling them up to 1 cm from the top. Seal the jars and let cool at room temperature until set. Makes about 5 jars of 250ml (1 cup).
Tips
If using frozen strawberries, remove them from the freezer 5 minutes before making the recipe so that they are easier to chop.
For a flavourful twist, try substituting lemon juice for lime juice.
It is best to under-boil rather than over-boil a jam because an under-cooked jam that doesn't set can be salvaged by re-boiling it until it reaches the correct consistency. Check for gelling by placing a small amount of hot jam on a chilled plate and place it in the freezer for up to 1 minute. If it sets, it is ready. If not, continue to boil until it sets.