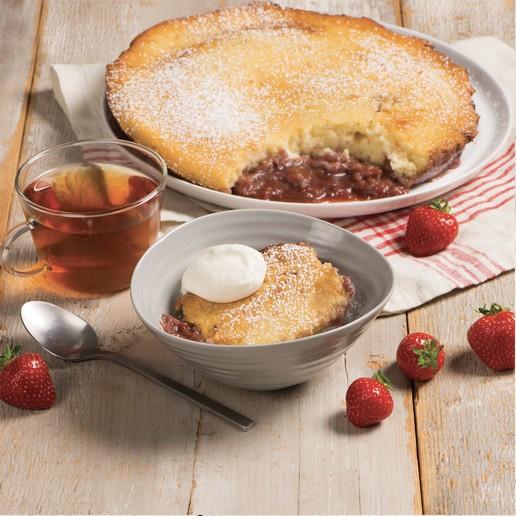 All Recipes
Breakfast & Breads
Strawberry-Rhubarb Tarte Tatin
Strawberry-Rhubarb Tarte Tatin
Whether you call it a fruit or vegetable, rhubarb is underappreciated. Its bright tart flavour pairs perfectly with seasonal strawberries in this dessert inspired by the French
No Comments

By Lantic Inc
Ingredients
1/4 cup (60 mL) unsalted butter
3/4 cup (175 mL) Lantic Granulated Sugar
2 cups (500 mL) halved strawberries
1 cup (250 mL) chopped fresh rhubarb
1 tbsp (15 mL) fresh lemon juice
1 cup (250 mL) 35% whipping cream
1/4 cup (50 mL) icing sugar
1 tsp (5 mL) vanilla
Batter:
1/2 cup (125 mL) unsalted butter, softened
2/3 cup (150 mL) Lantic Granulated Sugar
2 eggs
1 tsp (5 mL) vanilla extract
1 1/4 cups (300 mL) all-purpose flour
1 1/2 tsp (7 mL) baking powder
1/2 tsp (2 mL) baking soda
1/2 tsp (2 mL) salt
1 cup (250 mL) milk
Directions
Preheat oven to 350°F (180°C).
Melt butter in 8-inch (20 cm) seasoned cast iron skillet set over medium heat. Sprinkle sugar into pan; cook for about 4 minutes or until sugar starts to caramelize.
Add strawberries, rhubarb and lemon juice; cook for 10 to 12 minutes or until fruit is softened and juices have thickened.
Batter:
Meanwhile, in KitchenAid stand mixer with paddle attachment, beat butter with sugar until fluffy. Beat in eggs, one at a time, until smooth; stir in vanilla.
Whisk together flour, baking powder, baking soda and salt; add to butter mixture in three additions alternately with two additions of milk, beginning and ending with flour mixture. Pour over strawberry-rhubarb mixture.
Bake for 35 to 40 minutes or until tester inserted in centre comes out clean. Let stand for 10 to 15 minutes. Invert onto serving platter.
In mixer with whisk attachment, whip cream, icing sugar and vanilla until stiff. Serve with tarte Tatin.
Tips
How to season a cast iron skillet
Wash a new cast iron skillet in warm soapy water. Rinse and dry.
Rub the inside of the skillet with about 2 tsp (10 mL) of a neutral oil, such as canola or safflower oil. Remove any excess.
Invert skillet onto large rimmed baking sheet. Place in 375°F (190°C) oven for 30 minutes. Let cool.
Repeat 3 to 4 times.