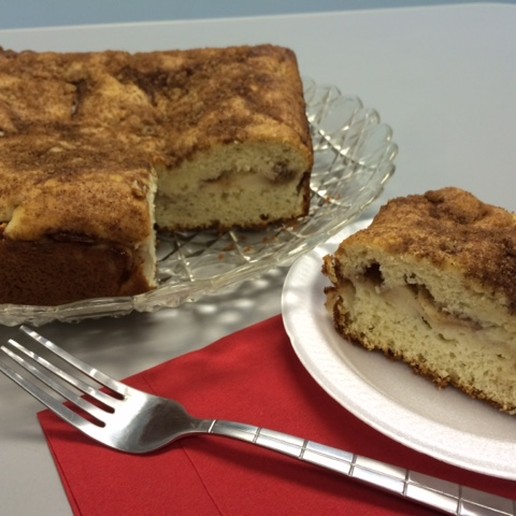 All Recipes
Desserts & Frostings
Apple Cake -- Apfel Kuchen -- Gateau au Pomme
Apple Cake -- Apfel Kuchen -- Gateau au Pomme
A wonderful European souvenir that tastes great in any language. I visited Germany many years ago and have delighted family and friends with this delicious cake ever since. Enjoy it warm with your favourite beverage. The aroma provides a wonderful welcome when anyone enters our home.
No Comments

By Roger Doiron
Ingredients
1 cup Sour Cream
1 tsp Baking Soda
1/2 cup Brilliant Yellow Sugar
1 tsp Cinnamon
1/2 tsp Nutmeg
5 peeled & sliced Apples
2 cups all-purpose Flour
1 tsp Baking Powder
1/2 tsp Salt
1 cup White Sugar
1/2 cup Margarine or soft Butter
2 Eggs
1 tsp Vanilla
Directions
Combine sour cream and soda in a small bowl and set aside.
Combine Topping ingredients (Brilliant Yellow sugar, cinnamon,nutmeg) in a small bowl and set aside.
Peel and slice apples and set aside.
Combine Flour, Baking Powder and Salt in a small bowl and set aside.
In a large bowl, mix together White Sugar and Margarine/Butter. Add Eggs and Vanilla. Stir in 1/2 of sour cream mixture then 1/2 of flour mixture - mixing well after each addition. Then mix in the other half mixtures one at a time.
Spoon half of the batter into a greased 9-inch square pan. Place apples over the batter. Sprinkle with 3/4 of the Topping mix. Spoon on remaining batter (don't worry about covering complete top) and sprinkle with remaining Topping mix.
Bake in 350% oven until tester comes out clean. (Approximately 45 to 60 minutes depending on how juicy the apples are.)
Be sure to serve it warm for the best enjoyment!