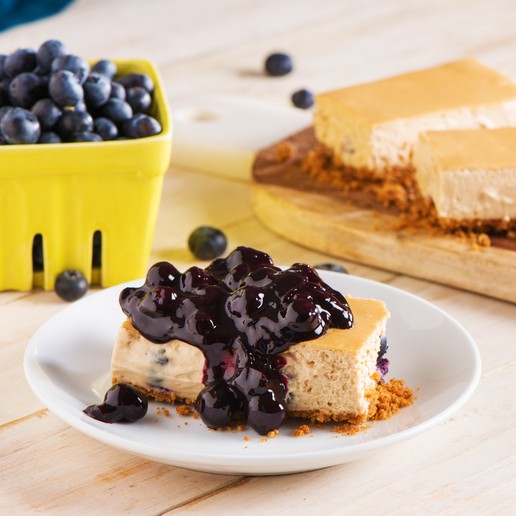 Ingredients
2 1/2 cups (625 mL) graham wafer crumbs
1/3 cup (75 mL) melted butter
2 tbsp (30 mL) Lantic/Rogers Coconut Sugar
Filling:
4 pkg (250 g/8 oz each) brick-style cream cheese, softened
1 cup (250 mL) Lantic/Rogers Coconut Sugar
1 cup (250 mL) sour cream
4 eggs
1 tsp (5 mL) vanilla
1 tsp (5 mL) ground ginger
1 cup (250 mL) fresh blueberries
Blueberry Topping:
2 cups (500 mL) fresh blueberries
1/3 cup (75 mL) Lantic/Rogers Coconut Sugar
1 tbsp (15 mL) cornstarch
Directions
Preheat oven to 325°F (160°C). Line 13- x 9-inch (3 L) baking pan with enough foil to leave overhang on sides.
In large bowl, stir together graham wafer crumbs, melted butter and coconut sugar; spread evenly and press firmly into bottom of prepared pan.
Filling: In bowl, beat cream cheese with sugar until fluffy; beat in sour cream. Beat in eggs, one at a time, until smooth. Add vanilla and ginger; fold in blueberries and pour over crust. Bake for 30 to 35 minutes or until golden and set. (Cheesecake may crack slightly.) Let cool completely.
Blueberry Topping: Meanwhile, in saucepan set over medium heat, combine blueberries, coconut sugar and 2 tbsp (30 mL) water; bring to boil. Cook for 5 minutes or until blueberries burst. Whisk cornstarch with 1 tbsp (15 mL) water. Stir into blueberries; bring to boil. Cook for about 2 minutes or until thickened. Let cool.
Spread blueberry topping over cooled cheesecake and refrigerate until set. Cut into 16 bars.
Tip: Cheesecake bars can be made ahead, covered and refrigerated for up to 2 days.