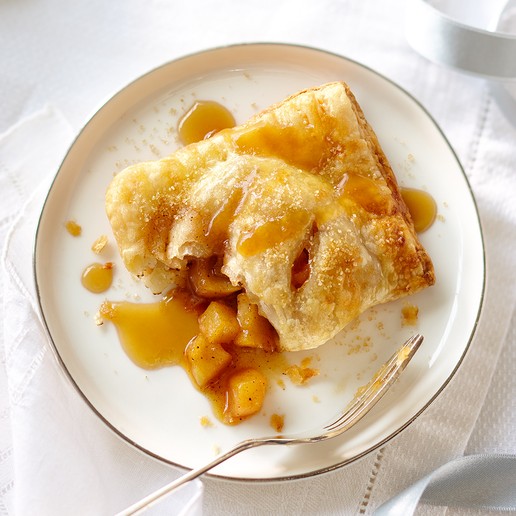 Ingredients
Easy Butterscotch Sauce:
1/2 cup salted butter
1 cup Lantic or Rogers Nature's RAW® Sugar
2/3 cup 35% whipping cream
2 tsp vanilla extract
1/4 tsp sea salt (optional)
Apple Hand Pies:
2 tbsp salted butter
3 tart apples such as Granny Smith, peeled and chopped
2 tbsp Lantic or Rogers Nature's RAW® Sugar
1 tsp ground cinnamon
1 egg
2 pkg (450 g each) pre-rolled puff pastry (4 sheets), thawed
Additional Lantic or Rogers Nature's RAW® Sugar
Directions
Butterscotch Sauce:
Melt butter in a medium saucepan set over medium heat. Add sugar and cream; cook, whisking, until sugar is melted. Reduce heat to medium-low; simmer for 5 minutes or until thickened. Stir in vanilla and sea salt (if using). Cool to room temperature. Makes 1 2/3 cups.
Hand Pies:
Preheat oven to 400°F. Melt butter in a large skillet over medium heat. Add apples in a single layer. Sprinkle with sugar and cinnamon. Cook, without stirring, for 5 minutes. Cook, stirring occasionally for 3 to 5 additional minutes or until apples are tender but not mushy. Meanwhile whisk egg with 1 tbsp water.
Cut each sheet of pastry in half; cut each half into 4 equal rectangles (making 8 rectangles per sheet). Divide apples between rectangles, mounding on one side. Top each mound with a rounded teaspoon butterscotch sauce. Brush egg wash around edges. Fold pastry over filling; crimp with a fork to seal. Transfer to large parchment paper-lined baking sheets. Slice a few vent holes. Brush with egg wash and sprinkle with additional Plantation Raw® sugar.
Bake, rotating sheets once, for 20 minutes or until puffed and evenly browned. Serve warm, drizzled with additional caramel.
Tip: If pre-rolled puff pastry isn't available, use two thawed 375 g package of puff pastry. Roll each half of the bricks into 10-inch squares.
---