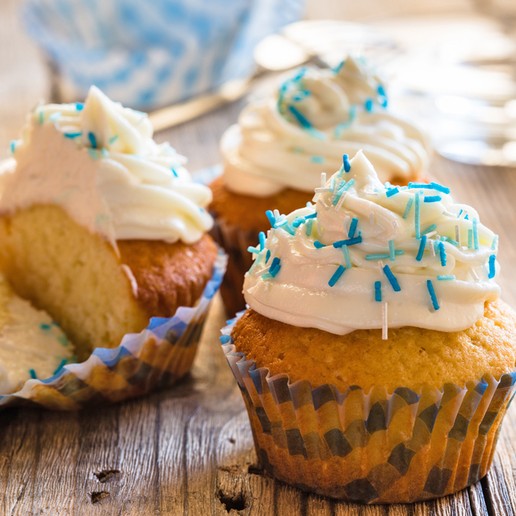 Ingredients
Cakes:
2 eggs
250 ml (1 cup) Lantic Granulated Sugar
125 ml (1/2 cup) canola oil
10 ml (2 tsp) vanilla extract
400 ml (1 2/3 cup) cake and pastry flour
7 ml (1 ½ tsp) baking powder
3 ml (1/2 tsp) each baking soda and salt
150 ml (2/3 cup) buttermilk
Fluffy Buttercream Frosting:
375 ml (1 ½ cups) softened butter
1 L (4 cups) Lantic Icing Sugar
45 ml (3 tbsp) 35% whipping cream
7 ml (1 ½ tsp) vanilla extract
Sprinkles or coloured sugar
Directions
Preheat the oven to 180°C (350°F). Line 18 muffin cups with paper liners.
Beat the eggs on medium speed until light.
Add the sugar, canola oil and vanilla; beat for 1 minute. Stir the flour with the baking powder, baking soda and salt in a small bowl.
On low speed, alternately beat in the flour mixture and buttermilk in two additions, just until smooth.
Divide the batter between the prepared cups, filling about ½ full.
Bake for 15 minutes or until a tester inserted into the center comes out clean.
Cool completely.
Fluffy Buttercream Frosting: Beat the butter for 3 minutes or until almost white and very fluffy.
Add the icing sugar, whipping cream and vanilla; beat on low until combined. Increase the speed to medium.
Beat for 2 to 3 minutes or until very creamy and fluffy.
Transfer the frosting to a piping bag fitted with a star tip. Pipe onto the cupcakes and garnish with sprinkles.