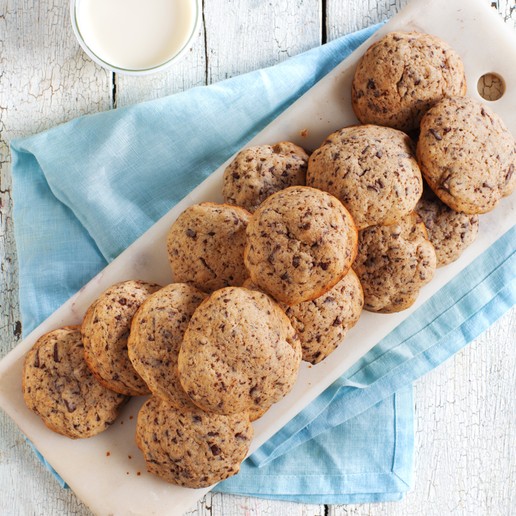 Ingredients
1 cup (250 mL) unsalted butter, softened
3/4 cup (175 mL) Lantic Rogers Smart Sweetener Blend
2 eggs
1 egg white
1 tsp (5 mL) vanilla
2 1/2 cups (625 mL) all-purpose flour
1/2 tsp (2 mL) baking powder
1/2 tsp (2 mL) baking soda
1/2 tsp (2 mL) salt
1 1/2 cups (375 mL) coarsely chopped bittersweet chocolate
Directions
Preheat oven to 350°F (180°C). In bowl, beat butter with stevia blend until fluffy. Add eggs, one at a time, beating well after each addition; beat in egg white and vanilla.
In separate bowl, whisk together flour, baking powder, baking soda and salt; stir into butter mixture until combined. Stir in chocolate. Refrigerate dough for 30 minutes.
Drop batter by heaping tablespoonfuls into 24 balls, about 2 inches (5 cm) apart, onto two parchment paper–lined baking sheets. Bake on top and bottom racks, rotating and switching pans halfway through, for 10 to 12 minutes or until bottoms are golden. Let stand on baking sheets for 5 minutes; transfer to rack and let cool completely.
Tip: Add 1/2 cup (125 mL) chopped nuts, raisins or dried cherries to batter if desired.