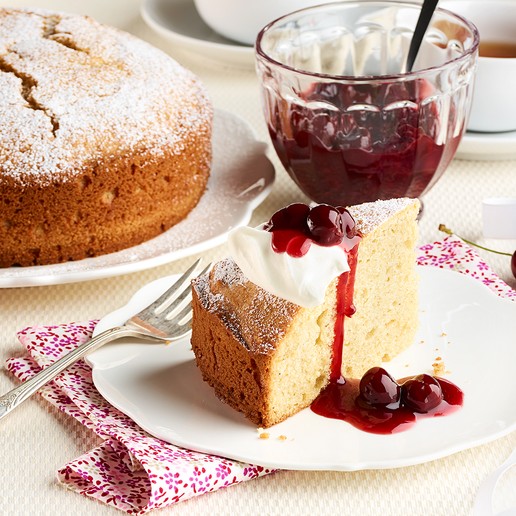 All Recipes
Desserts & Frostings
Deon's Guyanese Sponge Cake
Deon's Guyanese Sponge Cake
"This rich and buttery sponge cake was something I grew up with and was often served at Christmas time or for special occasions." Deon Ramkelawan - Lantic Blender/General Helper, Scarborough Blending Facility
No Comments

By Lantic Inc
Ingredients
1 cup softened salted butter
1 cup Lantic Nature's RAW Sugar
1/4 cup evaporated milk
5 eggs, at room temperature
1 1/2 tsp vanilla extract
1/4 tsp ground nutmeg
Pinch ground cinnamon
2 cups all-purpose flour
1 Tbsp baking powder
Lantic Icing Sugar (for dusting)
Directions
Preheat oven to 350°F. Butter and line a 9-inch cake pan with a round of parchment paper.
Beat butter and sugar in a large mixing bowl, gradually beat in evaporated milk, a little at a time, until mixture is very light and fluffy and sugar is well incorporated.
Whisk eggs with vanilla, nutmeg and cinnamon in a separate bowl until well combined. Beat egg mixture into butter mixture. Sift flour with baking powder in a separate bowl. On low speed, gradually beat flour mixture into butter and egg mixture until very creamy.
Scrape batter into prepared pan. Bake for 35 to 40 minutes or until cake is golden brown and a tester comes out clean. Cool completely in pan on a rack. Transfer to a serving plate and dust with icing sugar.
Tip: for a flavourful garnish, serve with "Spiked Cherry Sauce" and a dollop of whipped cream. Combine 2 cups drained, pitted sour cherries with 1/4 cup Plantation Raw Sugar, 1/3 cup orange juice, 2 Tbsp dark rum or 1 tsp rum extract and 1 Tbsp cornstarch in a saucepan set over medium heat. Cook, stirring often, for 5 minutes or until thickened and glossy.
Tip: this versatile cake is a great make ahead option. Stored in an airtight container, it stays moist for up to 3 days at room temperature.