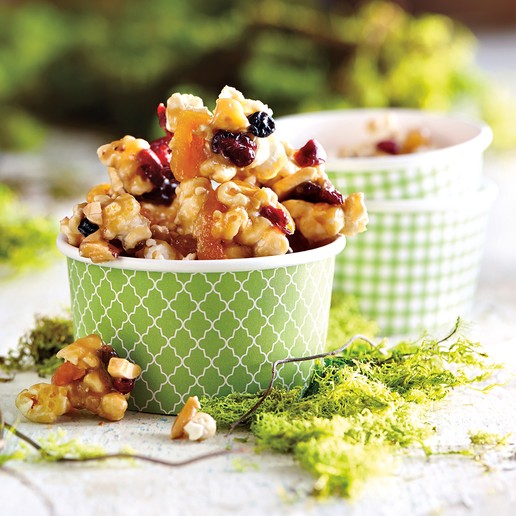 Ingredients
10 cups plain popped popcorn (homemade, microwave or air popped)
1 ½ cups mixed dried fruit (such as cherries, blueberries, cranberries, diced apricots and golden raisins)
1 cup toasted slivered almonds
1 ½ cups Lantic Nature's RAW Sugar
½ cup Lactantia Salted Butter
1/4 cup corn syrup
2 tbsp water
½ tsp baking soda
Directions
Toss popcorn with fruit and almonds in a large, heat-proof bowl; set aside.
Combine sugar, butter, corn syrup and water in a heavy saucepan set over medium heat. Cook, stirring, until sugar is melted. Increase the heat to high; bring to a boil. Reduce heat slightly; boil, without stirring, for 5 minutes or until caramel reaches 265°F (hard ball stage) on a candy thermometer.
Remove caramel from heat. Wearing oven mitts, carefully mix in baking soda until combined. Pour caramel over popcorn mixture. Working quickly, stir with buttered spatulas until well-coated. Spread onto a large buttered rimmed baking sheet.
Cool until set; break into clusters. (Once cooled completely, clusters can be transferred to an airtight container and reserved for up to 1 week.) Makes about 12 cups.
---