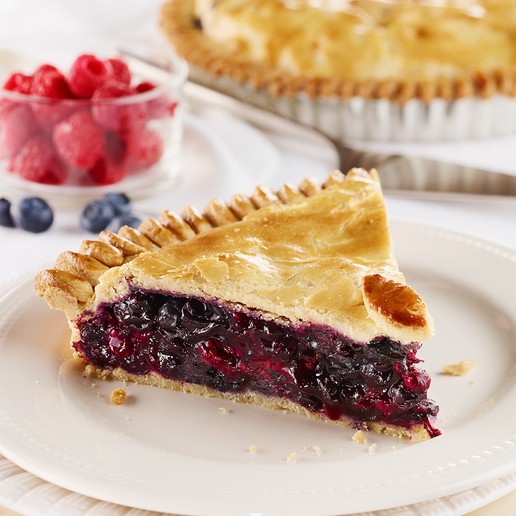 All Recipes
Desserts & Frostings
Justyne's Blueberry-Raspberry Pie
Justyne's Blueberry-Raspberry Pie
"I created this recipe because my grandmother loves blueberry pie. Store bought pies never measured up for her, they were always too sweet. I decided to create a recipe with an amazing crust that was a little more tart, with the addition of raspberries, and less sweet for her liking." Justyne Beck - Lantic Receptionist, Vancouver office
Ingredients
Crust:
2 cups all-purpose flour
1/2 cup self-rising flour
1 Tbsp Lantic Superfine Granulated Sugar
1/2 tsp each ground nutmeg and cinnamon
1 tsp salt
3 Tbsp vegetable oil
1 cup cold unsalted butter, cubed
1/4 cup ice water
2 tsp lemon juice
1 egg, separated
Filling:
1/2 cup cornstarch
1/4 cup Lantic Superfine Granulated Sugar
1/4 cup Lantic Old Fashioned Brown Sugar
1 tsp each ground nutmeg and lemon zest
6 cups fresh blueberries
2 cups fresh raspberries
2 Tbsp unsalted butter, cubed
Directions
Crust: combine all-purpose and self-rising flours, sugar, nutmeg, cinnamon and salt in a bowl of a stand mixer. Mix on low speed until evenly combined. On low speed, gradually drizzle in vegetable oil, followed by butter cubes, a few at a time. Stir water with lemon juice; slowly add to flour mixture, mixing until dough forms a ball. Divide dough into two equal portions, flatten to a disc, wrap and chill for at least 90 minutes.
Let pie dough stand at room temperature for 20 minutes before rolling. Preheat oven to 400°F.
On a lightly floured surface, roll dough into 1/4-inch thick. Transfer to a 9-inch, deep dish pie plate. Roll out remaining dough to make top crust; set aside. Brush bottom of dough with egg white.
Filling: stir cornstarch with granulated and brown sugars, nutmeg and lemon zest until well combined. Sprinkle 2 Tbsp of sugar mixture over bottom crust. Dot with butter. Cover with top crust. Trim excess dough and press edges to seal. Slash top crust a few times to allow steam to escape. (Decorate with extra dough if desired.) Whisk egg yolk with 1 tsp water; brush evenly over crust.
Set pie on baking sheet. Bake on lower rack for 10 minutes. Reduce over temperature to 350°F. Continue to bake for 50 to 70 minutes or until golden, filling is bubbly and juices look glossy. (Tent crust with foil as needed to prevent overbrowning.) Cool to room temperature before slicing.
Tip: the fresh berries can be replaced with frozen berries if out of season. Use berries unthawed, but add at least 30 minutes to the total bake time and tent with foil as needed.
Tip: No stand mixer? Use a pastry blender to cut the butter into the flour and then use hands to mix in water mixture and gently knead until dough comes together.
Tip: For the best success in rolling dough, lightly flour a clean work surface as well as the rolling pin. While working, rotate the dough 90 degrees and flip it side to side until it reaches 1/4-inch thick. To transfer the dough without breaking, position rolling pin on one edge of pie plate and roll off to place dough in plate.