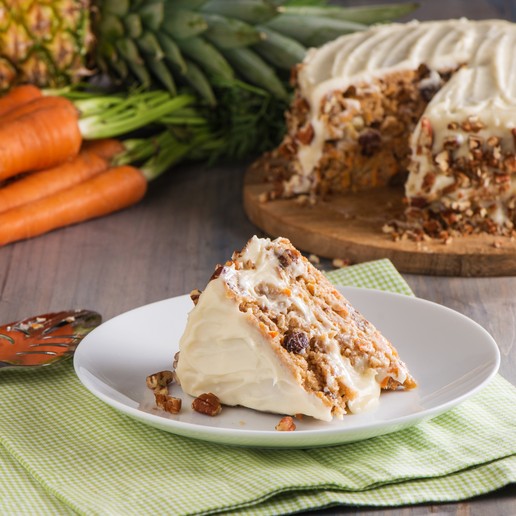 Ingredients
2 cups (500 mL) all-purpose flour
2 tsp (10 mL) baking powder
2 tsp (10 mL) cinnamon
1 tsp (5 mL) ground ginger
1 tsp (5 mL) baking soda
3/4 tsp (4 mL) salt
1/2 tsp (2 mL) ground nutmeg
3 eggs
3/4 cup (175 mL) Lantic Rogers Smart Sweetener Blend
3/4 cup (175 mL) vegetable oil
3/4 cup (175 mL) unsweetened applesauce
2 cups (500 mL) grated carrots
1 cup (250 mL) drained crushed pineapple
1 cup (250 mL) chopped toasted pecans, divided
3/4 cup (175 mL) raisins
Cream Cheese Icing:
1 pkg (8 oz/250 g) brick-style cream cheese
1/2 cup (125 mL) butter
1 cup (250 mL) Lantic/Rogers Sugar + Stevia Blend
1 tsp (5 mL) vanilla
Directions
Preheat oven to 350°F (180°C). Line two 8-inch (23 cm) round baking pans with parchment paper.
In bowl, whisk together flour, baking powder, cinnamon, ginger, baking soda, salt and nutmeg. In large separate bowl, beat eggs, stevia blend and oil until smooth; stir in flour mixture and applesauce, making three additions of flour mixture and two of applesauce, until combined. Fold in carrots, pineapple, 1/2 cup (125 mL) pecans, and raisins.
Divide mixture evenly between prepared pans. Bake for 35 to 40 minutes or until tester inserted into centre comes out clean. Let cool in pan for 15 minutes. Invert onto rack; let cool completely.
Cream Cheese Icing: Beat cream cheese with butter until fluffy. Beat in stevia blend and vanilla until smooth.
Place one cake layer on cake plate or stand. Top with 1/2 of the icing, spreading to edges. Top with remaining cake layer and spread with remaining icing. Garnish with remaining pecans.
Tips: Toast pecans in skillet set over medium-high heat for about 5 minutes or until fragrant. Let cool slightly before chopping. Replace pecans with walnuts if desired.