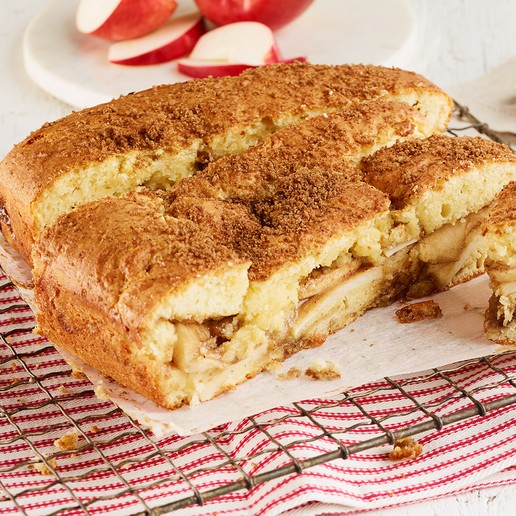 All Recipes
Desserts & Frostings
Linda's Apfel Kuchen
Apple Streusel Cake - "This recipe has been in the family for decades and is a popular coffee cake to serve in Germany. When I'm expecting guests, I serve this cake because it uses common ingredients I have at home. It is aromatic and homey, I've never met anyone who doesn't like it." Linda Laidler-Askew - Lantic Executive Assistant, Toronto Office
Ingredients
Topping:
1/2 cup Lantic Old Fashioned Brown Sugar
1 tsp ground cinnamon
1/2 tsp ground nutmeg
Cake:
1 cup sour cream
1 tsp baking soda
2 cups all-purpose flour
1 tsp baking powder
1/2 tsp salt
1 cup Lantic White Granulated Sugar
1/2 cup softened butter or margarine
2 eggs
1 tsp vanilla extract
4 cups sliced, peeled apples (~5 medium apples)
Directions
Topping: stir brown sugar with cinnamon and nutmeg until well combined; set aside. Preheat oven to 350°F.
Cake: stir sour cream with baking soda; set aside for 10 minutes. Stir flour, baking powder and salt in a small bowl; set aside.
Beat sugar with butter until fluffy. Beat in eggs and vanilla. On low speed, beat in half the sour cream mixture, followed by half the flour mixture. Scrape bowl and repeat additions, beating until well combined.
Spoon half the batter into a greased 9-inch square baking pan. Layer apples evenly over batter. Sprinkle with three quarters topping mixture. Spoon over remaining batter. (Don't worry about completely covering apples.) Sprinkle with remaining topping. Bake for 55 to 60 minutes or until a tester inserted into centre comes out clean.
Tip: this cake can be served warm or at room temperature and will keep moist if tightly wrapped for up to 2 days. McIntosh or Cortland apples are a great choice for this cake.