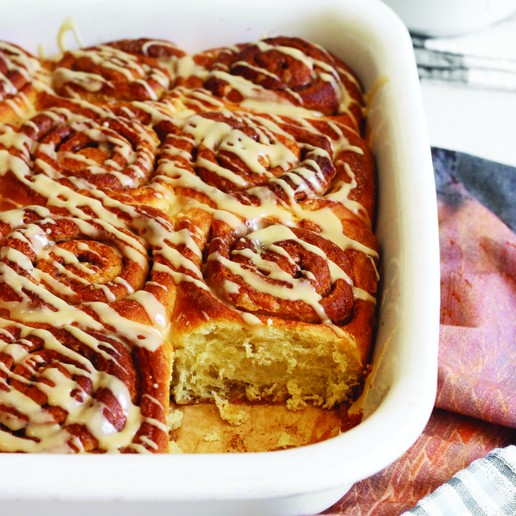 Ingredients
Dough:
1/2 cup (120ml) milk
1/2 cup (120ml) boiling water
2 tsp (7g) instant dry yeast
1/3 cup (65g) granulated sugar
3 1/4 cups (460g) all-purpose flour
1 tsp salt
2 large eggs, at room temperature
6 tbsp (84g) unsalted butter, melted and cooled
2 tbsp (30ml) LBMT Amber Rich Maple Syrup
Filling:
1/3 cup (65g) granulated sugar
1/2 cup (60g) Lantic & Rogers Maple Sugar
2 tsp ground cinnamon
4 tbsp (56g) unsalted butter, melted
4 tbsp (30g) Lantic & Rogers Maple Flakes
Glaze:
3/4 cup (80g) sifted icing sugar
2 tbsp (30ml) LBMT Amber Rich Maple Syrup
1 tsp (5ml) milk
1/2 tsp lemon juice
1/2 tsp vanilla extract
Directions
Dough:
Combine milk with boiling water (final temperature should be no higher than 110ᵒF). Stir in yeast and 1 teaspoon of the sugar. Let stand until foamy, about 10 minutes.
Combine flour with remaining sugar and salt in a large bowl and make a well in the center. Beat eggs thoroughly in a bowl with a fork and add to the flour mixture along with yeast mixture, melted cooled butter and maple syrup. Mix well with a wooden spoon until all ingredients are evenly incorporated and it forms a uniform, sticky, wet dough. Cover the bowl with a piece of plastic wrap and kitchen towel and let stand at room temperature for 2 hours. It should double in size. After two hours, place the bowl in the refrigerator for at least 8 hours or overnight.
Generously dust a clean work surface with flour. Scrape the soft sticky dough out of the bowl and onto the work surface. Dust the surface of the dough liberally with flour and pat it out into a 21x12-inch rectangle using more flour as necessary to prevent sticking to your hands. Use a rolling pin if desired to roll it out to the required shape.
Filling:
Combine granulated sugar, maple sugar and cinnamon in a small bowl. Brush the surface of the dough with melted butter and sprinkle liberally with the cinnamon sugar mixture. Sprinkle maple flakes all over the surface. Gently roll up the dough from the long edge of the rectangle to form a spiraled log.
Use a sharp knife to cut dough log into 12 equal portions. Arrange rolls evenly spaced in a 9x13-inch baking dish cut-side-up. Cover with a piece of plastic wrap and a kitchen towel and let stand until the rolls have risen again, about 30-40 minutes. They will appear puffy and should be nearly touching each other in the pan.
Preheat oven to 350°F. Bake for 25-30 minutes until evenly golden browned and firm to the touch. A skewer inserted into the center roll should come out clean. Transfer baking dish to a wire rack and let cool for at least 20 minutes.
Glaze:
Combine icing sugar, maple syrup, milk, lemon juice and vanilla in a small bowl and whisk until smooth. Drizzle over warm rolls and serve. Makes 12 rolls.
Tips
You can leave the covered dough in the refrigerator for up to 24 hours before shaping and baking.
These rolls are best eaten fresh on the day they are made, otherwise you can freeze individual rolls wrapped well in plastic wrap and then closed in a re-sealable freezer bag. Warm them gently in the microwave before serving.