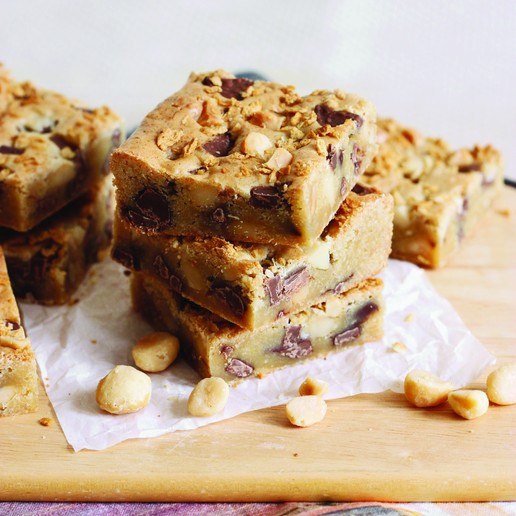 Ingredients
1/2 cup (113g) unsalted butter
3/4 cup (90) Lantic & Rogers Maple Sugar
1/2 cup (100g) granulated sugar
1 large egg, at room temperature
1 tsp (5ml) vanilla extract
1 tbsp (15ml) LBMT Dark Maple Syrup
1/2 tsp salt
1/2 tsp baking powder
1 cup plus 2 tbsp (160g) all-purpose flour
4 oz (113g) milk chocolate, coarsely chopped
1/2 cup (65g) roasted salted macadamia nuts, chopped
2 tbsp (12g) Lantic & Rogers Maple Flakes for topping
Directions
Preheat oven to 350°F. Line an 8x8-inch baking pan with parchment paper, leaving enough overhang along the sides for lifting the blondies out after baking.
Melt butter over medium heat in a medium saucepan and then pour it into a large mixing bowl. Add maple sugar and granulated sugar and whisk to blend. Whisk in egg, vanilla, maple syrup, salt and baking powder until smooth. Add flour and fold it in until just combined. Once most of the flour is incorporated, add most of the chopped milk chocolate (reserving some for topping) and macadamia nuts and fold them in until evenly distributed.
Scrape the mixture into your prepared pan and spread it out evenly. Scatter the reserved milk chocolate chunks on top and sprinkle maple flakes over the surface. Bake for 23-26 minutes until the top is lightly golden, puffed and shiny. It should still feel slightly soft in the middle. Transfer pan to a wire rack and let cool completely before cutting into squares. Makes 16 squares.
Tips
For neat and straight edges, chill the blondie slab for 1 hour before slicing.
These blondies keep for up to 3 days stored in an airtight container at room temperature and up to a week in the refrigerator.