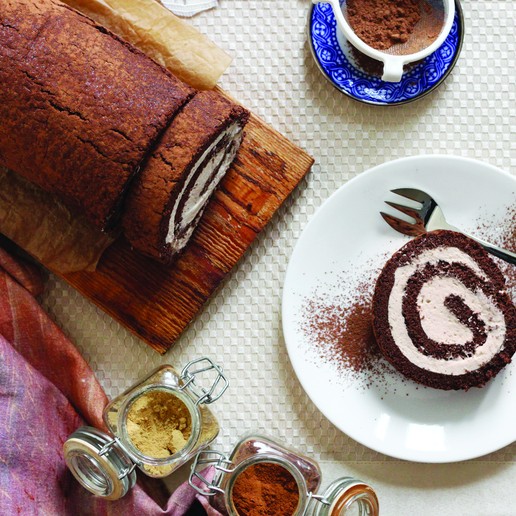 Ingredients
Sponge cake:
4 large eggs, at room temperature
1/2 cup (60g) Lantic & Rogers Maple Sugar
1/4 cup (50g) granulated sugar
1/8 tsp salt
1/2 cup (71g) all-purpose flour
1/4 cup (22g) Dutch-process cocoa powder, plus more for dusting
3 tbsp (42g) unsalted butter, melted and cooled
Filling:
1 1/4 cups (300ml) 35% whipping cream
3 tbsp (20g) Lantic & Rogers Maple Sugar
1 tsp (5ml) vanilla extract
1/4 tsp each ground cardamom, cinnamon and ginger
3 tbsp (20g) Lantic & Rogers Maple Flakes
Directions
Preheat oven to 350°F. Lightly spray a 12 1/2-by-16 1/2-inch rimmed baking sheet with cooking spray and line the base with parchment paper. Lightly spray the parchment with cooking spray.
Sponge cake:
Beat eggs for 3 minutes on medium-high speed until frothy and pale in the bowl of an electric stand mixer fitted with the whisk attachment or in a large mixing bowl if using an electric hand mixer. Gradually add maple sugar and granulated sugar and beat for 2-3 minutes longer, until it nearly triples in volume and is very thick and glossy. Sift together flour and cocoa powder into a medium bowl and then sprinkle it over the egg mixture. Use a large rubber spatula to carefully fold the dry ingredients into the whipped egg mixture. When almost incorporated, pour melted butter down side of bowl and gently fold to combine.
Scrape batter into prepared pan and spread it out evenly in a thin layer right to the edges. Bake for 8-10 minutes until springy to the touch. Transfer pan to a wire rack and let cool for just 2 minutes so it is easier to handle. Dust top of cake with cocoa powder. Run a knife around sides of cake to loosen it. Invert cake onto a clean kitchen towel or another large piece of parchment paper and gently peel off the parchment from underside of the cake.
While the cake is still warm, gently roll it into a log starting from one short side and incorporating the kitchen towel or parchment as you are rolling. Let the cake cool completely in this rolled shape.
Filling:
Combine whipping cream with maple sugar in a medium bowl and whip on medium speed with an electric hand mixer until it forms stiff peaks. Beat in vanilla extract and spices. Gently unroll the sponge cake and spread the filling evenly over it leaving a 1/2-inch border all around. Sprinkle maple flakes evenly over the filling and then roll the cake to enclose filling starting at a short end. Transfer the cake roll to a serving plate and refrigerate for at least 30 minutes before slicing. Dust with cocoa powder, cut into slices and serve. Makes 8-10 servings.
Tips
This cake keeps for up to a week in the refrigerator and becomes more moist over time.
Serve with a scoop of vanilla ice cream and a drizzle of LBMT Dark Maple Syrup for an extra decadent treat.