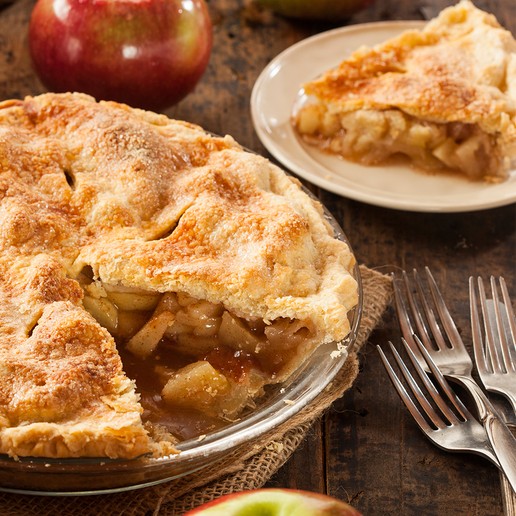 Ingredients
Pie Crust:
2 1/2 cups (625 mL) all-purpose flour
2 tbsp (30 mL) Lantic Natural Granulated Sugar
1 tsp (5 mL) salt
1 cup (250 mL) cold unsalted butter, cut into pieces
1/3 cup (75 mL) ice water
Pie filling:
8 Granny Smith apples, peeled and sliced
1/2 cup (125 mL) Lantic Brilliant Yellow Sugar
1/4 cup (60 mL) Lantic Natural Granulated Sugar, divided
1/4 cup (60 mL) cornstarch
2 tsp (10 mL) ground cinnamon
1/4 tsp (1 mL) ground nutmeg
1/4 tsp (1 mL) salt
1 tbsp (15 mL) cold butter, cubed
1 egg white
1 tbsp (15 mL) water
Directions
Pie Crust: Place the flour, sugar and salt in a food processor. Pulse until well combined. Add the butter and pulse until crumbly. With the motor running, slowly pour the ice water into the food processor until the dough forms a ball. Portion the dough into 2 disks and wrap well. Refrigerate for at least 1 hour and up to 2 days.
Filling: Toss the apples with the yellow sugar, 3 tbsp (45 mL) granulated sugar, cornstarch, cinnamon, nutmeg and salt; stir in butter and set aside. In a separate bowl, beat the egg white with the water; set aside.
Preheat the oven to 350°F (180°C). Arrange the rack to the lowest position in the oven. Roll out one of the disks on a lightly floured surface to line the bottom and sides of a deep-dish, 9-inch (23 cm) pie plate. Scrape the filling into the pie shell, mounding in the center. Brush the edge of the pie pastry with the egg wash.
Roll the remaining disk into a 12-inch (30 cm) round; drape over the apple filling. Press along the moistened rim to seal the two pieces of dough together. With a paring knife, trim the dough to be flush with the rim. Seal the two pieces of the piecrust together by crimping the edge with a thumb and forefinger or a fork. Brush the top with egg wash. Cut 2 small vent holes in the center of the pie. Sprinkle with the remaining granulated sugar.
Bake for 60 minutes or until the piecrust is golden brown and the juices are bubbling. Transfer to a wire rack to cool completely.
Tip: The pie will slice easily if it is completely cooled, about 4 hours. The pie can be served warm but it may be more difficult to slice.