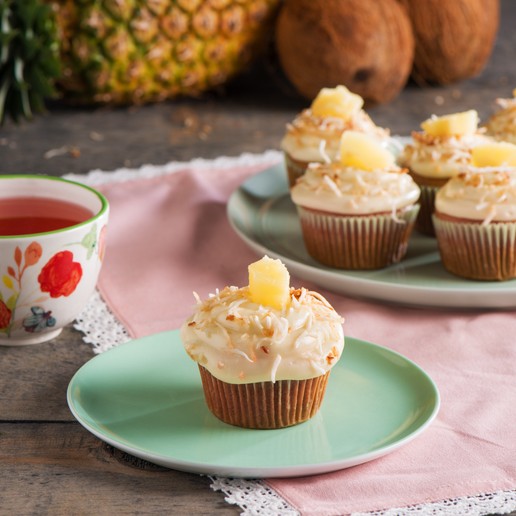 Ingredients
1/2 cup (125 mL) unsalted butter, softened
1 cup (250 mL) Lantic/Rogers Coconut Sugar
2 eggs
1 tsp (5 mL) vanilla
1 1/2 cups (375 mL) all-purpose flour
1 1/2 tsp (7 mL) baking powder
1/2 tsp (2 mL) salt
3/4 cup (175 mL) milk
1/2 cup (125 mL) chopped fresh pineapple or drained canned pineapple chunks
1/3 cup (75 mL) lightly toasted sweetened shredded coconut
Cream Cheese Icing:
1/2 pkg (4 oz/125 g) brick-style cream cheese
2 tbsp (30 mL) unsalted butter, softened
1/2 tsp (2 mL) vanilla
Pinch salt
1 cup (250 mL) icing sugar
3 tbsp (45 mL) toasted sweetened shredded coconut
Directions
Preheat oven to 350°F (180°C). Line 12-cup muffin tin with large paper or foil liners.
Beat butter with sugar until fluffy. Beat in eggs, one at a time, mixing well after each addition; beat in vanilla. Whisk together flour, baking powder and salt; beat into butter mixture, alternating with milk, making three additions of flour mixture and two of milk, just until combined. Fold in pineapple and coconut.
Spoon mixture into muffin liners. Bake for 20 to 25 minutes or until tester inserted into centre comes out clean. Let cool on rack for 10 minutes. Let cool completely.
Cream Cheese Icing: Beat together cream cheese and butter until fluffy; add vanilla and salt. Add icing sugar; beat until smooth.
Pipe or spread icing over cooled cupcakes; sprinkle with toasted coconut.
Tip: Toast coconut in a small skillet set over medium heat, shaking occasionally, for about 5 minutes or until golden brown.