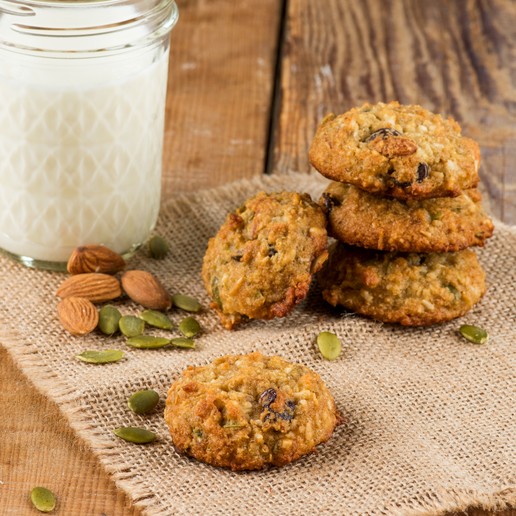 Ingredients
1 cup (250 mL) almond flour
1/4 tsp (1 mL) baking powder
1/4 tsp (1 mL) baking soda
1/4 tsp (1 mL) salt
1/4 cup (60 mL) mashed banana
1/4 cup (60 mL) Lantic or Rogers Agave Syrup
2 tbsp (30 mL) oil
1/2 tsp (2 mL) vanilla extract
1 egg, beaten
1/2 cup (125 mL) cooked quinoa
1/4 cup (60 mL) chopped almonds
1/4 cup (60 mL) unsweetened desiccated coconut
1/4 cup (60 mL) dried cranberries
1/4 cup (60 mL) pumpkin seeds
1/4 cup (60 mL) dark chocolate chips
Directions
Preheat oven to 350°F (180°C). Mix almond flour, baking powder, baking soda and salt until combined. In a separate bowl, whisk together mashed banana, agave syrup, oil and vanilla until blended.
Whisk egg into banana mixture until blended. Whisk banana mixture into almond flour mixture until combined.
Fold in quinoa, almonds, coconut, cranberries, pumpkin seeds and chocolate chips. Place rounded tablespoons of dough, 2 inches (5 cm) apart, on parchment paper–lined baking pans.
Bake on top and bottom racks, rotating and switching pans halfway through, for 12 to 15 minutes or until golden brown around edges. Let cool on baking sheets for 2 minutes; transfer to racks and let cool completely.
Tip: Use your favourite combination of chocolate chips, nuts, seeds or dried fruit.