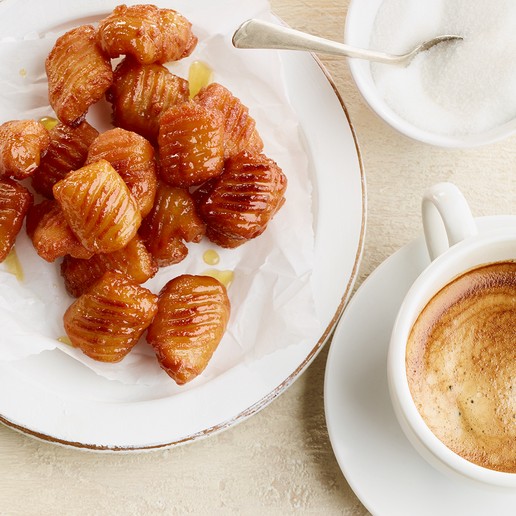 All Recipes
Desserts & Frostings
Rita's Turdilli
Traditional Italian Christmas Cookie - "This is a recipe passed on from many generations, from my mom's hometown in Cosenza, Italy. It tastes good with Roger's Golden Syrup." From Rita Pellegrino - Lantic Customer Service Representative, Montreal office
Ingredients
Dough:
1 cup Lantic White Granulated Sugar
I cup sweet white wine
1 1/4 cups vegetable oil (plus extra for frying)
2 eggs
1 egg yolk
1 small orange, zested
3/4 tsp salt
8 cups all-purpose flour (approx.)
Glaze:
2 cups Roger's Golden Syrup
2 cups water
Directions
Dough: use a wooden spoon to mix sugar, wine, oil, eggs, egg yolk, orange zest and salt until well combined. Gradually mix in 7 cups flour until well combined. Working with hands, knead in up to 1 cup additional flour until dough is soft and malleable but will hold shape.
Separate dough into 6 balls. Roll each ball into a rope about 1/2-inch in diameter. Cut each rope into 12 pieces, about 1-inch each. Press a lightly floured fork into each piece to make deep indentations (like gnocchi).
Heat oil in a large pot or deep fryer to 350°F. Fry turdilli in small batches for 2 to 3 minutes or until golden brown. Transfer to a paper towel-lined tray to absorb extra oil.
Glaze: meanwhile, bring syrup and water to a boil in a large saucepan set over medium heat. Remove from heat. Soak batches of warm turdilli in glaze for 2 minutes to absorb syrup. Using a slotted spoon, transfer to a platter or shallow bowl. Serve warm or at room temperature.
Tip: the fried turdilli can be frozen (unglazed) in an airtight container for up to 1 month. Bring to room temperature and then soak in the hot syrup before serving.