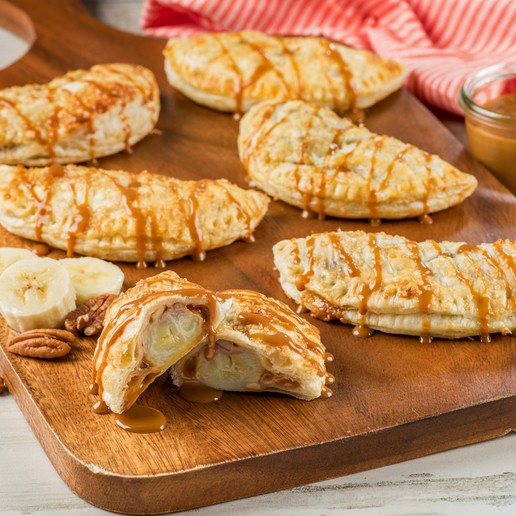 Ingredients
Salted Caramel Filling:
1 cup (250 mL) Lantic or Rogers Granulated Sugar
1/4 cup (60 mL) water
1/3 cup (75 mL) 35% whipping cream, at room temperature
3 tbsp (45 mL) unsalted butter, cut into cubes
1 tsp (5 mL) sea salt
2 bananas, sliced
Empanadas:
1 egg
1 tbsp (15 mL) water
4 sheets pre-rolled puffed pastry (each about 10-inch/25 cm square)
1/4 cup (60 mL) chopped toasted pecans
2 tbsp (30 mL) Lantic or Rogers Plantation Raw® Sugar
Flaked sea salt (optional)
*5-inch (12 cm) round cookie cutter
Directions
Salted Caramel Filling: Add sugar to heavy-bottom saucepan. Pour in water and set over medium heat; cook, without stirring, for 7 to 10 minutes or until uniformly golden brown, gently swirling pan if sugar is browning unevenly.
Carefully add whipping cream; stir slowly with wooden spoon until combined. Cook for 2 minutes; remove from heat. Add butter and salt. Remove 1/3 cup (75 mL) caramel; set aside. Add sliced bananas to remaining caramel in saucepan; toss gently to coat evenly. Let cool completely.
Empanadas: Preheat oven to 400°F (200°C). Whisk egg with water; set aside. Spread pastry on working surface; cut out three 5-inch (12 cm) rounds from each piece of pastry.
Place 4 banana slices in centre of each round.Sprinkle with 1 tsp (5 mL) pecans. Brush outer edge of pastry with egg wash; bring edges of pastry together to create half-moon shape and enclose filling. Crimp edges with a fork to seal pastry tightly. Repeat with remaining pastry and filling.
Brush tops with egg wash. Sprinkle each empanada with some Plantation Raw® sugar. Cut two small vent holes in centre of each empanada. Bake for 13 to 15 minutes or until golden brown; let cool slightly. Drizzle with set aside caramel sauce, and sprinkle with flaked sea salt (if using).
Tip: Refrigerate leftover caramel in airtight container for up to 2 weeks. Reheat gently and drizzle over ice cream, pies or cakes.