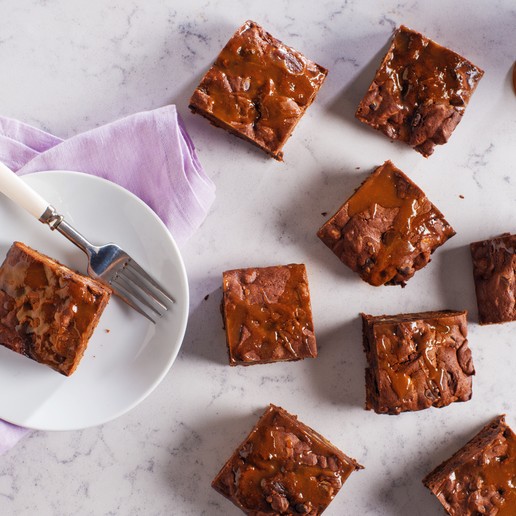 Ingredients
1/2 cup (125 mL) butter
3 oz (90 g) semi-sweet chocolate, chopped
1 oz (30 g) unsweetened chocolate, chopped
2 eggs
1/2 cup (125 mL) Lantic Rogers Smart Sweetener Blend
1 tsp (5 mL) vanilla
3/4 cup (175 mL) all-purpose flour
1/2 tsp (2 mL) baking powder
1/2 tsp (2 mL) salt
1 cup (250 mL) dark chocolate chips
1 cup (250 mL) chopped walnuts (optional)
Salted Caramel:
1/2 cup (125 mL) Lantic/Rogers Sugar + Stevia Blend
1/3 cup (75 mL) 35% whipping cream
1 tbsp (15 mL) butter
1/2 tsp (2 mL) vanilla
1/2 tsp (2 mL) sea salt or flaked sea salt, divided
Directions
Preheat oven to 350°F (180°C). Line 8-inch (2 L) square baking pan with parchment paper.
In heatproof bowl set over hot, not boiling, water, melt butter, semi-sweet and unsweetened chocolate; let cool. In separate bowl, whisk together eggs, stevia blend and vanilla until light and fluffy; stir in cooled chocolate mixture.
Whisk together flour, baking powder and salt; stir into egg mixture until blended. Stir in chocolate chips, and walnuts (if using). Bake for about 25 minutes or until tester inserted into centre comes out with a few moist crumbs clinging.
Salted Caramel: Meanwhile, in saucepan set over medium heat, bring stevia blend and 2 tbsp (30 mL) water to boil, brushing down sides of saucepan with pastry brush dipped in cold water. Boil, without stirring, for about 15 minutes or until mixture turns amber colour.
Add cream; simmer until mixture is smooth. Simmer for 2 minutes; remove from heat and stir in butter, vanilla and 1/4 tsp (1 mL) salt. Let cool slightly.
Drizzle 2 tbsp (30 mL) caramel sauce over brownies; sprinkle with remaining salt.
Tip: Refrigerate remaining caramel sauce to drizzle over ice cream, waffles or fruit. Microwave on low heat for 15 to 20 seconds or until pourable.