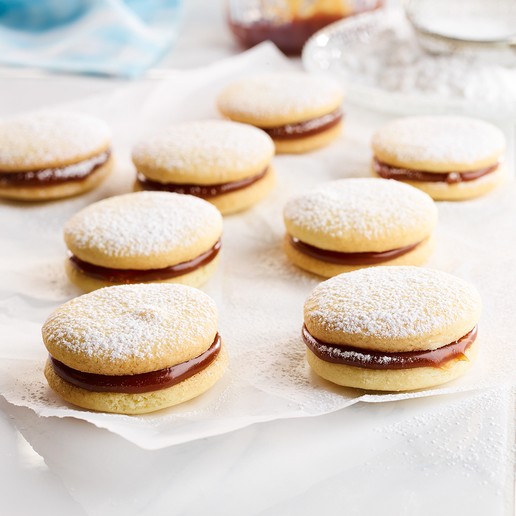 All Recipes
Desserts & Frostings
Sonia's Dulce de Leche Cookies
Sonia's Dulce de Leche Cookies
"One of my favourite baking traditions is making these cookies during the holiday season. The crumbly texture of the cookie contrasted with the rich, creamy filling is a delicious combination!" Sonia De Santis - Lantic Executive Secretary, Montreal office
Ingredients
1/2 cup softened unsalted butter
1/3 cup Lantic White Granulated Sugar
2 egg yolks
1/2 tsp vanilla extract
1 cup cornstarch
3/4 cup all-purpose flour
1 tsp baking powder
1/2 tsp baking soda
1/4 tsp salt
3/4 cup prepared thick Dulce de Leche or butterscotch sauce
Lantic Icing Sugar (for dusting)
Directions
Beat butter with sugar for 3 minutes or until light and fluffy. Beat in egg yolks and vanilla, scraping bowl as needed. Stir cornstarch with flour, baking powder, baking soda and salt in a separate bowl. On low speed, gradually add cornstarch mixture to butter mixture, just until uniformly incorporated. Form dough into a disc; wrap tightly in plastic wrap and chill for at least 1 hour or until firm.
Preheat oven to 350°F. Line baking sheets with parchment paper. Working on a lightly floured surface, roll dough to about 1/8-inch thick (if dough cracks, it patches easily). Use a 2-inch round cookie cutter to cut 36 rounds and place on prepared baking sheets.
Bake, in batches, for 8 to 9 minutes or until just pale golden on bottom. (Do not overbake.) Transfer to a wire rack to cool completely.
Spread bottom of one cookie with 1 1/2 tsp Dulce de Leche spread; sandwich with a second cookie. Dust both sides of cookies with icing sugar.
Tip: If a thick Dulce de Leche is hard to find, use this shortcut recipe: pour 1 can (300 mL) Dulce de Leche flavoured condensed milk into a small heavy pot set over medium heat. Bring to a boil. Boil, stirring constantly, for 4 minutes or until thickened. Cool to room temperature before using.
Tip: Make several batches of these cookies; wrap them up in cute boxes and offer them as holiday gifts.