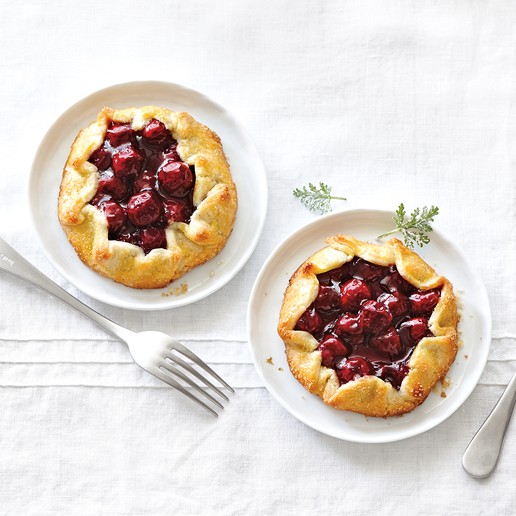 Ingredients
3 cups all-purpose flour
3 cups drained, pitted sour cherries
½ tsp salt
½ cup each well-chilled unsalted butter and vegetable shortening, cubed
2 eggs divided
1 tbsp lemon juice
Ice water
Filling:
2/3 cup Lantic Nature's RAW Sugar, divided
2 tbsp cornstarch
1 tbsp vanilla extract
Directions
In a food processor, pulse flour with salt until combined. Pulse in butter and shortening until crumbly. Whisk 1 egg with lemon juice and enough ice water to make 2/3 cup. Add to flour mixture; pulse until dough clumps together. For into two flat discs. Chill for 1 hour.
FILLING: Stir cherries with ½ cup sugar and cornstarch in a saucepan set over medium heat; cook, stirring often, until thick and glossy. Remove from heat; stir in vanilla. Cool to room temperature.
Preheat oven to 375°F (190°C); arrange racks in lower and middle position in oven.
Roll each disc out about ¼ inch thick. Cut into three 5-inch rounds (re-roll scraps once to get 2 extra rounds form each portion). Transfer to large baking sheets lightly coated with no-stick cooking spray.
Place about ¼ cup filling in centre of each round. In small sections, fold in outer edge, overlapping pastry, leaving centre filling exposed.
TOPPING: Whisk remaining egg with 1 tbsp water; brush lightly over exposed dough; sprinkle liberally with remaining sugar. Bake, rotating pans once, for 25 minutes or until pastry is evenly golden. Cool completely on baking sheets. Serve at warm or at room temperature. Makes 10 galettes.