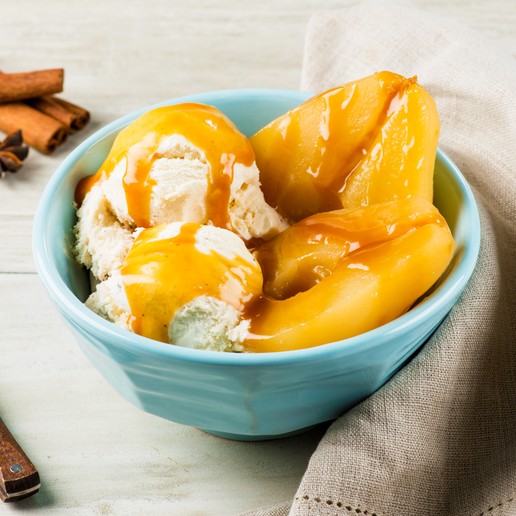 Ingredients
2 cups (500 mL) orange juice
1 cup (250 mL) Lantic Old Fashioned Brown Sugar or Rogers Best Brown Sugar
1 cup (250 mL) water
1 cinnamon stick
6 allspice berries
5 cardamom pods
3 star anise
3 whole cloves
4 ripe pears, peeled, cored and halved
3/4 cup (175 mL) 35% whipping cream, at room temperature
1 tsp (5 mL) vanilla extract
1/2 tsp (2 mL) sea salt
2 cups (500 mL) vanilla icecream
Directions
In large saucepan, combine orange juice, brown sugar, water, cinnamon, allspice berries, cardamom, star anise and cloves; bring to boil. Add pear halves; return to boil. Reduce heat and simmer for 8 to 10 minutes or until tender. Let pears cool in poaching liquid for 2 hours.
Strain pears and discard spices. Return poaching liquid to saucepan and bring to boil. Boil for about 10 minutes or until syrupy consistency is achieved. Add cream; simmer, stirring with wooden spoon, for 5 minutes. Add vanilla and salt.
Serve poached pears with vanilla ice cream; drizzle with warm sauce. Serve immediately.
Tips
Refrigerate remaining sauce in an airtight container for up to 2 weeks.
Gently reheat sauce and serve as a dip with sliced apples if desired.
Add crunch by crumbling your favourite cookies, such as gingersnaps, biscotti or shortbread, over ice cream.