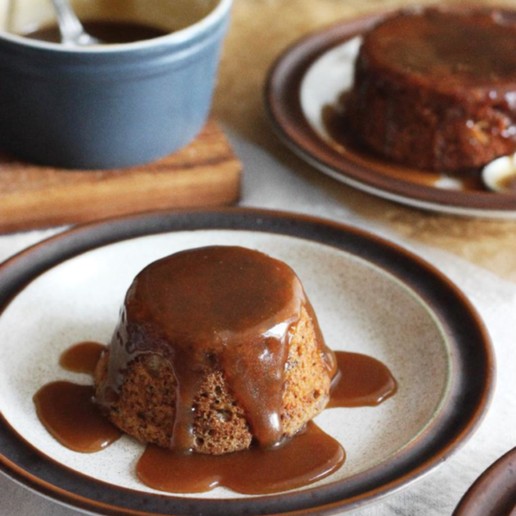 Ingredients
Maple toffee sauce:
1/2 cup (120ml) 35% whipping cream
3/4 cup (165g) packed dark brown sugar
4 tbsp (60ml) LBMT Dark Maple Syrup
2 tbsp (28g) unsalted butter
1/8 tsp salt
Cake batter:
1 1/2 cups (200g) chopped pitted dates
1 cup (240ml) water
1 1/3 cups (215g) all-purpose flour
1 1/2 tsp baking powder
1/2 tsp baking soda
1/4 tsp salt
6 tbsp (84g) unsalted butter, at room temperature
1/3 cup (75g) packed light brown sugar
1/2 cup (60g) Lantic & Rogers Maple Sugar
1 tsp (5ml) vanilla extract
2 large eggs, at room temperature
4 tbsp (30g) Lantic & Rogers Maple Flakes
Directions
Maple toffee sauce:
Combine whipping cream, brown sugar and maple syrup in a small saucepan over medium-low heat and stir until sugar is dissolved and butter is melted. Bring the mixture to a simmer and continue to cook at a simmer for 3-4 minutes while stirring. It should thicken slightly. Remove from heat and stir in butter and salt. Pour the sauce into another bowl and set aside to thicken while you prepare the batter.
Preheat oven to 325°F. Generously grease the cups of a standard 12-cup muffin pan or eight 1/2-cup capacity ramekins with butter.
Cake batter:
Combine dates and water in a small saucepan over medium-high heat and bring to a boil. Once boiling, reduce heat, cover and simmer until very soft, about 10-15 minutes. Mash until dates absorb liquid and it looks like applesauce. You should have just over 1 cup of this date mixture. Set it aside to cool to lukewarm.
Whisk together flour, baking powder, baking soda and salt in a medium bowl and set aside.
Beat butter with brown sugar, maple sugar and vanilla extract for 3 minutes on medium speed until light and fluffy in the bowl of a stand mixer fitted with the paddle attachment or in a large mixing bowl if using an electric hand mixer. Add eggs, one at a time, beating well after each addition. The mixture may look slightly curdled in some spots but it will come together once the dry ingredients are added. Add dry ingredients and fold them in with a spatula until just until combined. Fold in warm date puree with a spatula until evenly incorporated and smooth.
Spoon batter into prepared muffin cups or ramekins, filling them about three-quarters full. Sprinkle 1 teaspoon of maple flakes over each portion of batter and swirl it in. Place ramekins on a rimmed baking tray and bake for 18-20 minutes for muffin cups and 22-25 minutes for ramekins until the tops are golden brown and the cakes spring back when pressed gently. Transfer the muffin pan or ramekins to a wire rack until cool enough to handle, about 10 minutes. Run a knife around the edges of the cakes to loosen them and then invert onto a plate. Pour warm toffee sauce over the cakes and serve warm. Makes 8-12 servings.
Tips
The maple toffee sauce can be prepared days in advance and re-warmed gently in a saucepan when you are ready to use it
The date cakes freeze nicely if wrapped well and stored in a re-sealable bag. Reheat gently in the microwave before serving with toffee sauce.