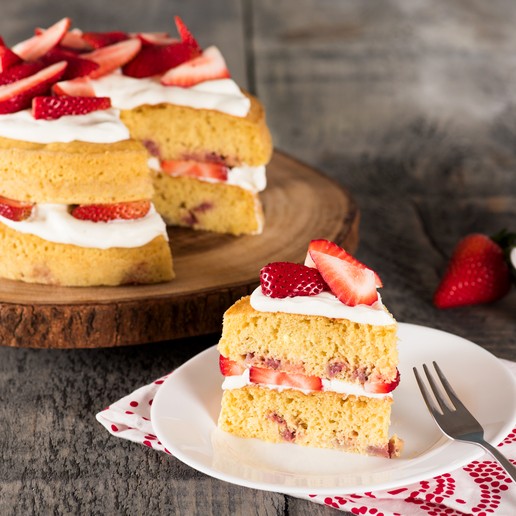 Ingredients
Cake:
1 3/4 cups (425 mL) sifted all-purpose flour
2 tsp (10 mL) baking powder
1/4 tsp (1 mL) baking soda
1/2 tsp (2 mL) salt
2/3 cup (150 mL) unsalted butter, at room temperature
1 1/4 cups (300 mL) Lantic or Rogers Plantation Raw® Sugar
2 eggs
2 tsp (10 mL) vanilla extract
1/2 cup (125 mL) milk
1 cup (250 mL) finely chopped strawberries
*2 round cake pans, 9-inch (1.5 L)
Filling:
1 1/2 cups (375 mL) 35% whipping cream
1/2 cup (125 mL) Lantic or Rogers Icing Sugar
1 tsp (5 mL) vanilla extract
3 cups (750 mL) strawberries, quartered
Directions
Cake: Preheat oven to 350°F (180°C); position rack in centre of oven. Grease two 9-inch (2.5 cm) round cake pans and line bottom with parchment paper; set aside.
Stir together flour, baking powder, baking soda and salt; set aside. In a separate bowl and using electric mixer, beat butter with sugar until light and fluffy. Add in eggs, one at a time, making sure each egg is fully incorporated before next addition. Beat in vanilla.
With mixer set to low, alternately add flour mixture in 3 parts with the milk in 2 parts, starting and ending with flour mixture. Scrape down bowl as needed between additions; fold in strawberries.
Pour evenly into prepared pans; smooth tops. Bake for 25 to 35 minutes or until tester comes out clean when inserted into centre of cake. Transfer to rack; let cool in pan for 20 minutes. Turn out onto rack; let cool completely.
Filling: Just before serving, beat together whipping cream, icing sugar and vanilla until stiff peaks form.
Place one cake on serving plate. Spread half of the filling over cake and top with half of the strawberries. Place remaining cake layer on top. Spread with remaining cream; arrange remaining strawberries on top. Can be refrigerated for up to 1 hour before serving.
Tip: The cake layers can be made 1 day ahead and stored (unfrosted) in an airtight container, or wrapped tightly and frozen for up to 2 weeks.