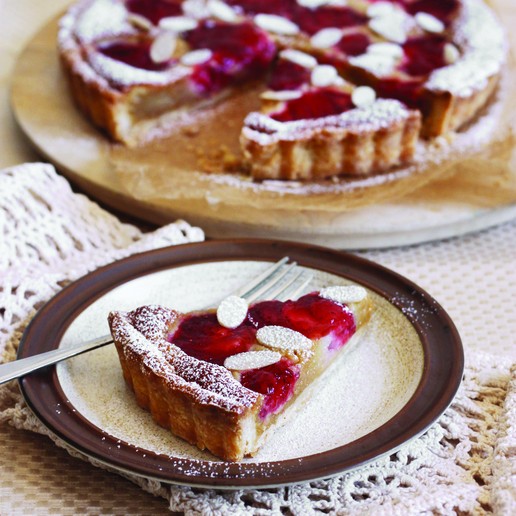 Ingredients
Pastry:
1 1/4 cups (180g) all-purpose flour
3 tbsp (25g) Lantic & Rogers Maple Sugar
1/4 tsp salt
1/2 cup (113g) cold unsalted butter, cut into small pieces
3 tbsp (45ml) ice cold water
Filling:
1 cup (100g) blanched almond meal
1/2 cup (60g) Lantic & Rogers Maple Sugar
1/4 tsp salt
1/3 cup (75g) unsalted butter, at room temperature
1 large egg, at room temperature
3 tbsp (45ml) LBMT Dark Maple Syrup
1/2 tsp vanilla extract
1 1/2 (15g) tbsp all-purpose flour
12-14 strawberries, sliced
icing sugar for dusting
Directions
Pastry:
Combine flour, maple sugar and salt in the bowl of a food processor and pulse to blend. Add cold butter and pulse until it resembles coarse crumbs (or place ingredients in a medium bowl and rub the butter in with your fingertips). Tip the mixture onto your work surface and drizzle cold water over the mixture while tossing with a fork until it holds together in clumps. Bring it together with your hands, pressing in loose bits until it is cohesive. Flatten into a disk, wrap well with plastic and refrigerate for 2 hours.
Lightly dust your work surface with flour and roll the chilled dough out to 1/8-inch thickness. Lay the pastry out over a 9-inch round tart pan with removable bottom and fit it into the base, pressing the dough into the edges and up the sides. Trim away excess dough. Cover with plastic wrap and chill for 15 minutes.
Preheat oven to 350°F. Prick the pastry all over with a fork and bake for 20-25 minutes until lightly golden. Transfer to a wire rack to cool for at least 10 minutes.
Filling:
Place almond meal, maple sugar, salt and butter in the bowl of a food processor and pulse until smooth and creamy. Add egg and process until smooth. Blend in maple syrup and vanilla extract. Add flour and process until thick and creamy. Spoon mixture into pre-baked tart shell and spread it out evenly. Arrange sliced strawberries on top.
Bake for 30-35 minutes until the filling is puffed and nicely browned. It should still be slightly soft in the center. Transfer tart to a wire rack and let cool for at least 30 minutes before dusting with icing sugar and serving. Makes 8-10 servings.
Tip
You can make the pastry up to 1 day in advance if wrapped well in the refrigerator. Leave it to stand at room temperature for 10 minutes before rolling to prevent cracking.