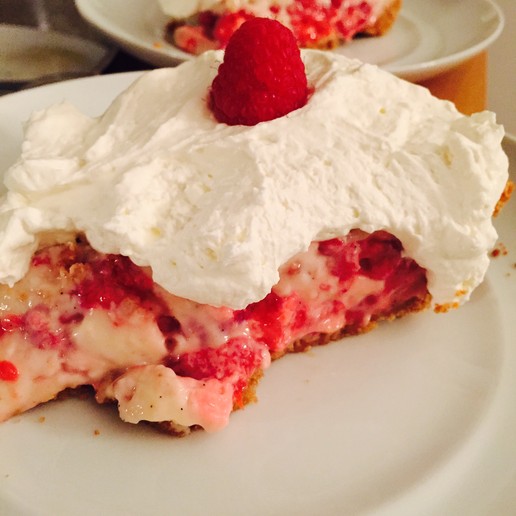 Ingredients
Crust:
1 1/2 cups Graham cracker crumbs
5 tablespoons unsalted butter, melted
1/4 cup granulated sugar
1/4 teaspoon coarse salt
Filling:
4 large egg yolks
3/4 cup granulated sugar
1/4 cup cornstarch
3/4 teaspoon coarse salt
2 3/4 cups whole milk
1 vanilla bean, split and scraped
3 tablespoons unsalted butter, room temperature, cut into pieces
3 cups raspberries (about 12 ounces)
Garnish:
1 cup heavy cream
2 tablespoons confectioners' sugar
Fresh raspberries
Directions
Crust:
Preheat oven to 350 degrees. Pulse graham-cracker crumbs, butter, granulated sugar and salt in a food processor until combined. Press mixture into bottom and up sides of a 9-inch pie plate. Freeze 10 minutes. Bake until slightly darker, 12 to 14 minutes. Let cool completely on a wire rack.
Filling:
Whisk yolks in a heatproof bowl and set aside. In a medium saucepan on medium/high heat, whisk together granulated sugar, cornstarch, and salt. Then whisk in milk, vanilla seeds and pod. Bring to a boil, whisking; cook, still whisking, 2 minutes more.
Pour milk mixture into yolks in a slow, steady stream, whisking until combined. Return mixture to saucepan; return to a boil, whisking. Remove from heat. Pass through a sieve into another bowl. Whisk in butter until melted. Let custard cool, whisking occasionally, about 10 minutes. Fold in 1 1/2 cups berries.
Pour custard into cooled crust. Press plastic wrap directly onto surface. Refrigerate until set, at least 4 hours and up to 1 day.
Garnish:
Whip cream with confectioners' sugar until soft peaks form, then spoon over filling or dollop each individual slice of pie. Top and serve with fresh berries.