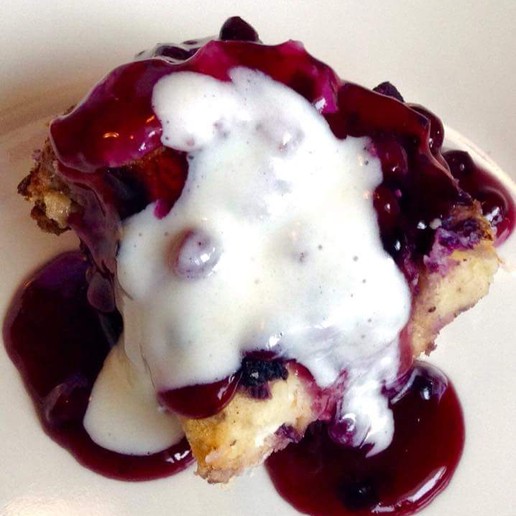 All Recipes
Main Entrees
Overnight Blueberry French Toast
Overnight Blueberry French Toast
My family loves French Toast. I don't. I decided to put together a french toast that I could love too. It was a huge success and everyone loved it. It's like eating dessert for breakfast!
No Comments

By Crystal Kimberley
Ingredients
French Toast Base:
2 loaves of thick sliced bread, cubed (a dense textured bread works best)
2 c. blueberries (frozen or fresh)
1 1/2 c. milk
7 large eggs
3 tsp. vanilla extract
1 tsp. cinnamon
1/2 tsp. nutmeg
1/2 c. Rogers Golden Syrup
Blueberry Syrup:
1 c. cold water
2 tbsp. cornstarch
1/2 c. Rogers Sugar Granulated Sugar
1 c. blueberries
Cream Cheese Layer:
8 oz cream cheese
2 tbsp. milk
3/4 c. Rogers Sugar Icing Sugar
Directions
Spray a 9x13 inch casserole dish with non-stick spray.
Spread half of the cubed bread in an even layer over the bottom of the casserole dish.
Mix together cream cheese, milk and icing sugar until well combined. Mixture should be pourable, but not watery. Add more icing sugar if mixture seems to thin; more milk if not easily spread over bread pieces. Pour mixture evenly over the bread pieces and sprinkle with blueberries.
Add remaining bread cubes over the top.
Combine 1 1/2 c. milk, eggs , vanilla, cinnamon, nutmeg and syrup. Pour the mixture over bread cubes and sprinkle with additional blueberries. Cover with foil and refrigerate over night.
Remove dish from fridge 30 minutes before baking. Preheat oven to 375 degrees F and bake covered for 1 hour. Remove the foil and continue to bake until the center is set (cooking times may vary due depending on oven).
To prepare the syrup, in a small saucepan, combine cold water, cornstarch and sugar. Heat mixture on a medium heat until simmering. Add blueberries and continue to simmer for 10 minutes, stirring occasionally.
Serve french toast with warm syrup and whipped cream (optional) for a delicious start to your day.