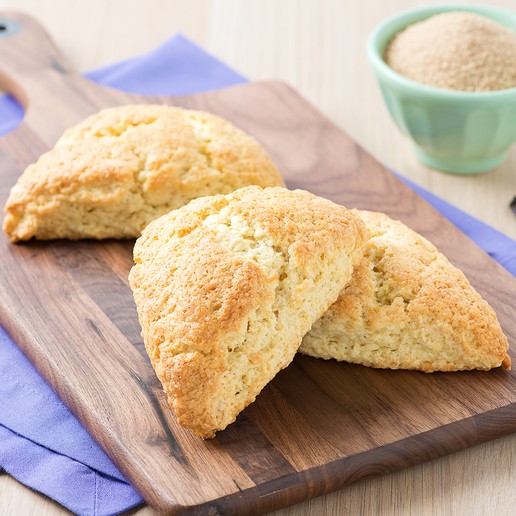 Ingredients
Scones:
2 cups (500 mL) all-purpose flour
1/2 cup (125 mL) Lantic natural granulated sugar or Rogers natural granulated sugar
1 tbsp (15 mL) baking powder
1/4 tsp (1 mL) fine table salt
1/2 cup (125 mL) cold unsalted butter, cut into small pieces
3/4 cup (175 mL) whipping cream
1 egg
1 tbsp (15 mL) vanilla extract
Topping:
2 tbsp (30 mL) whipping cream
1 tbsp (30 mL) Nature's RAW Sugar
Directions
Preheat the oven to 400°F (200°C). Stir the flour with the granulated sugar, baking powder and salt. Add the butter and cut into the flour mixture using a pastry blender, two knives or fingertips, until mixture is mealy.
Whisk the cream with the egg and vanilla. Stir into the flour mixture; do not over work the dough. Transfer the dough to a lightly floured surface and form into 7-inch (18 cm) round. Cut into 8 triangles. Place the triangles, about 2-inches (5 cm) apart, on a parchment-lined baking sheet.
Topping: Brush the tops with cream and sprinkle with raw sugar. Bake for 20 minutes or until golden. Serve warm or at room temperature.
Tips
• Add 1/2 cup (125 mL) raisins or mini chocolate chips.
• Use good quality vanilla extract for best flavour.