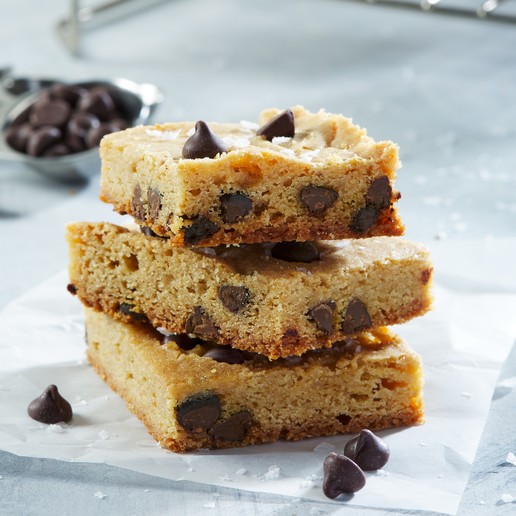 Ingredients
1 cup almond butter
½ cup Lantic & Rogers Demerara Brown Sugar
½ cup Lantic & Rogers Golden Yellow Sugar
½ cup Lantic & Rogers Granulated Sugar
2 large eggs
1 egg yolk
1 tsp pure vanilla extract
2 ½ cups all-purpose flour
½ tsp salt
½ tsp baking powder
⅔ cup semi-sweet chocolate chips
Directions
Preheat the oven to 350 °F .
Mix almond butter, the three sugars, 2 eggs, 1 egg yolk, and vanilla extract in a mixing bowl until well combined.
In a separate mixing bowl, add all-purpose flour, salt, and baking powder and mix until well combined.
Add the dry ingredients to the wet ingredients gradually until everything is well incorporated.
Fold in the chocolate chips to the batter and mix until the chocolate chips are distributed evenly.
Line a 13x9 inch baking tray with parchment paper and coat the parchment paper with cooking spray.
Transfer the blondie batter into the baking tray and spread evenly with a spatula.
Bake for 25-30 minutes.
Check if the blondies are ready by poking the blondies with a wooden toothpick, if the toothpick comes out clean, the blondies are ready.
Cool the blondies completely, cut into squares.